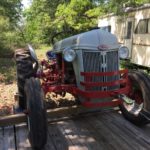 This week has been "In the Flow" of a wild river with a mild set of Rapids (I need to remind myself how fun that is).
On the bright side, my husband is feeling better. On the dark side, my husband is feeling better. That means he wants to "get stuff done."  After six months of thinking about how much he hasn't been able to get done, he is ready to work.
This is a good thing, but my schedule becomes secondary to his, and his is largely dependent upon the weather. Meaning even if he did tell me what he wanted me to help with, it will change.
The Law of Least Effort is my friend. We spent four hours at the ranch clearing fallen trees (at least three) to reach our long-neglected (about ten years) tractor. This photo was taken at the point where we'd cleared the tree that had fallen on the back of the motor home a couple of years ago.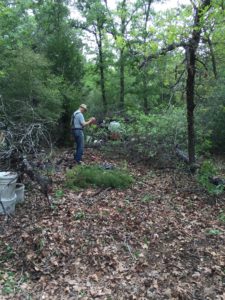 On Saturday, we spent about four hours and cleared all the trees and debris from the tractor. We worked together very well, and it was a rewarding day.
On Tuesday, we had a window withou rain forecast, so we went out to remove the shredder from the back and use come-alongs to pull it into the trailer. We expected that would take a couple hours. Six hours later, we were headed to town. Everything went smoothly. We didn't gauge how much time it would take.
The tractor is now resting in the shop, waiting for my husband to get it running again.