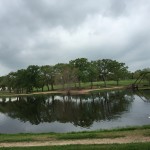 One of the joys of repeating the MKE course is rediscovering gems from the previous year. Week 1 of the Master Keys talks about the Universal Mind. In one of those "inexplicable things" we frequently encounter, I'm "bug-hunting" a friend's novel manuscript. This book was originally published in 2004, but the rights have reverted to my friend, and she's preparing to re-release the book under her own imprint. In the course of "bug-hunting," I came across this passage,
"It works. As for why it works, I can tell you what I think, but you're welcome to your own interpretation. I think we're all linked. That we are beings of light that wear these mortal forms for some reason we can only guess at while we wear them. That beneath these shells of flesh, we're part of a… a river of energy that fills the universe and moves through us and binds everything." (Holly Lisle, Midnight Rain, p. 94)
That's kind of what we're reading about this week in Haanel in paragraphs 25-26:
25. There is but one consciousness in the universe able to think; and when it thinks, its thoughts become objective things to it. As this Consciousness is omnipresent, it must be present within every individual' each individual must be a manifestation of that Omnipotent, Omniscient and Omnipresent Consciousness.

26. As there is only one Consciousness in the Universe that is able to think is necessarily follows that your consciousness is identical with the Universal Consciousness, or, in other words, all mind is one mind. There is no dodging this conclusion.
Holly's character was explaining to the character's neighbor why she thought Tarot cards worked, but the concept is the same. As Haanel writes this, I struggle to wrap my head around the concept, but as Holly writes it, it makes perfect sense.
But if there's only one Universal Mind, how can we be so divergent in our thoughts and actions? Let's back up a few paragraphs. In paragraph 3, we learn the "attitude of the mind necessarily depends upon what we think. Therefore, the secret of all power, all achievement, and all possession depends upon our method of thinking."
Paragraph 4 explains further, "We must "be" before we can "do," and we can "do" only to the extent which we "are," and what we "are" depends upon what we "think." Paragraph 6 continues, "There is a world within — a world of thought and feeling and power; of light and life and beauty and, although invisible, its forces are mighty."
The world within is governed by the mind. Paragraph 7 assures us "when we discover this world we shall find the solution for every problem, the cause for every effect; and since the world within is subject to our control, all laws of power and possession are also within our control."
The key to everything is in our thoughts. When we think correctly, we build strength, vitality, and constructive forces in our body. If our thoughts are not in order, our bodies experience distress, sickness, lack, limitation, discord, and inharmony.
In paragraph 22, we learn we are related to the world by our subconscious mind. It is through the subconscious that we are connected with the Universal Mind and brought into relation with the Infinite constructive forces of the Universe.
Jumping ahead to paragraph 32, "All power is from within, and is absolutely under your control; it comes through exact knowledge and by the voluntary exercises of exact principles." But paragraph 35 reminds us "the majority of mankind lives in the world without; few have found the world within, and yet it is the world within that makes the world without; it is, therefore, creative and everything which you find in your world without has been created by you in the world within."
In paragraph 37, Haanel says, "Most men try to change effects by working with effects. They fail to see that this is simply changing one distress for another. To remove discord, we must remove the cause, and this cause can only be found in the world within."
To bring about change in our world, we each must look within and get ourselves right. When we envision the world as it could be, we can make it a reality by changing our actions to make it so.